Back to News
Managing continuous change in a digital world: Agile Build simulation
Up Next…

Translating learning into real life: Strategic Feat simulation
News
In our volatile, uncertain, complex and ambiguous (VUCA) world, organisations are forced to manage continuous change. The task of digital transformation means that companies are wrestling with how to embrace the value of technology and manage the impact on people and jobs.
---
At Ososim we have developed the Agile Build simulation to help individuals, teams and companies meet these challenges and perform at their best.
---
Traditionally, managing change was a linear process. A movement from A, the present, to B, the desired future. Yet we live in a disruptive society. As a result, accepted norms are challenged and changed every day. To learn to thrive in these situations, our new change leadership simulation is designed to be fast and iterative. It encourages experimentation and failure. It rewards continuous engagement with stakeholders, a positive mindset and a resilient approach, adapting to whatever the situation presents.
In the Agile Build digital context, participants face some tough decisions. The Chairman of their construction company wants to take advantage of new technology to improve safety and delivery times. Participants must choose between a range of business initiatives including robotic building, autonomous vehicles and more. Each initiative has an impact on safety, jobs, risks and of course costs. Participants are forced to deal with trade-offs, evaluate different options and consult with the leadership team to devise the best strategy to move forward. At the end of the simulation, teams must assess how well they believe they have worked together as a team. These results are then plotted against their actual performance, to provide actionable feedback.
Prior to running the simulation, participants can 'interview' the Senior Leadership team and other characters in the simulation. This provides an extended learning opportunity to assess how the internal and external stakeholders feel about the challenges ahead.
---
Participants who used the simulation in a leadership development programme said it was a powerful learning experience:
---
"Loved the simulation.  My top 3 learning points were 1) Engage with people with different views; 2) Don't get sucked into insignificant details on important projects; 3) Take sufficient time to plan strategy rather than jump to execution."
Using the simulation, I learned: "A well-defined strategy doesn't necessarily need to change just because of the circumstances (new management, VUCA, etc.), but rather tweaks and continuous adjustments should be used to deliver on the vision. Also, the importance of mapping stakeholders (influence and change)."
---
Feedback from clients has praised the applicability of the simulation:
---
"Agile Build does an excellent job in bringing to life the challenges of leading complex change in an environment with diverse stakeholders and unforeseen events. Participants I have used this with have been struck by how similar their experience is during the simulation to their real life. This similarity provokes their default patterns of behaviour and decision making which in turn enables insight as they are then able to stand back, reflect and examine these patterns. Learning is available at several levels – behaviourally at an individual and group level from how participants interact in a group; tactically around the process of decision making and the act of experimentation. The simulation is well debriefed to ensure that learning and insight is captured and not lost in the enjoyment of the exercise."
– Caroline S., Programme Director
---
Agile Build is an off-the-shelf product, designed to run either face-to-face or online. It can be delivered via the internet or installed locally and facilitated by ourselves, our partners or our clients themselves. It has already run successfully with clients across Europe and the Middle East.
To find out more about the simulation and how it works you can watch our introductory video or contact us on +44 (0)1223 421 034 or email info@ososim.com.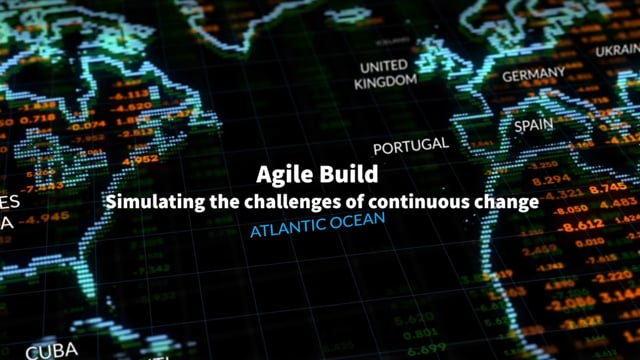 Play Video